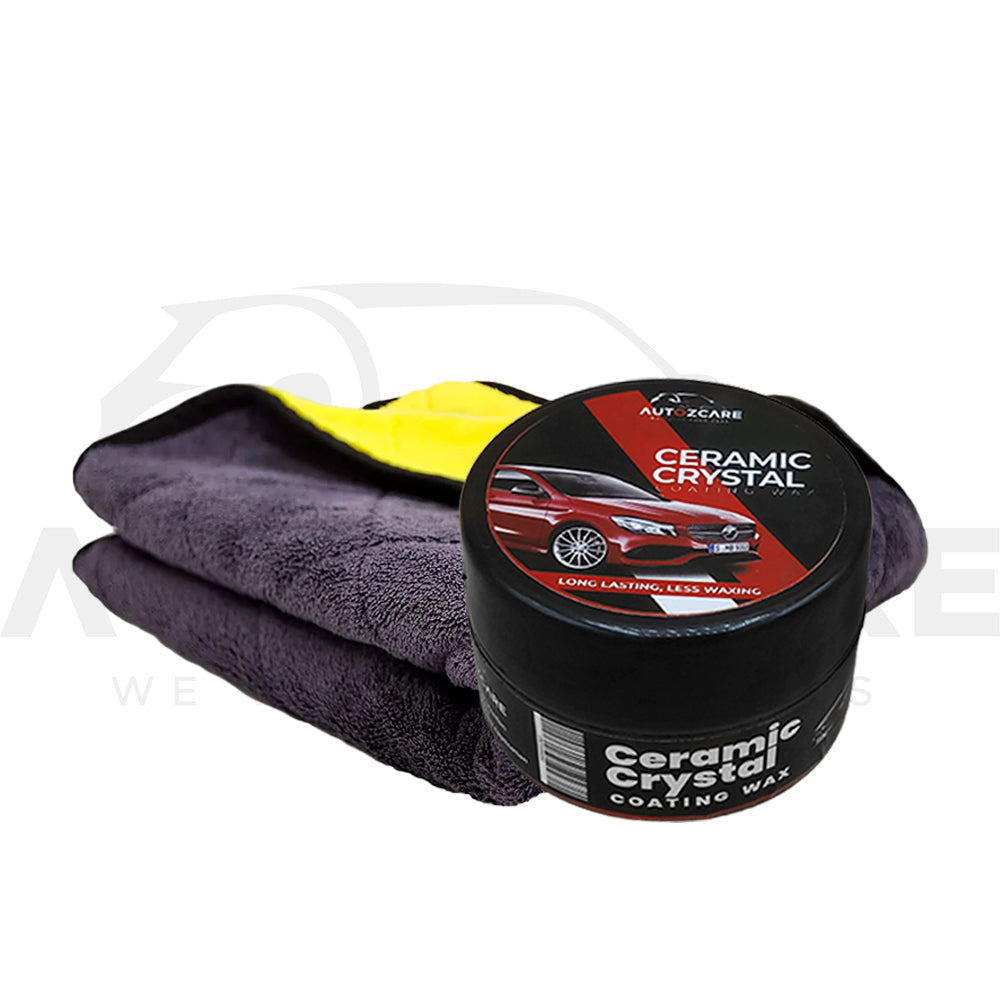 AutozCare Ceramic Crystal Coating Wax And Double Side Microfiber Towel (Pack Of 2)
The AutozCare Ceramic Crystal Coating Wax Is A Much Higher And More Detailed Technology That Is Also Known As Paint-Based Protection. Our Ceramic Crystal Coating Wax-Based Protectant Is Extremely Resistant To Water Soaps And Various Other Environmental Pollutants.
The ceramic crystal coating is a much better and more durable option than applying car wax. Because unlike car wax ceramic wax Creates a chemical bond with the car paint that is called curing. After curing it for 50 to 60 minutes your car is ready to dazzle people with its lustrous shine. It has amazing features like:
Smooth, non-greasy, and excellent water-resistant

Creates a ceramic-like layer to increase hardness and durability, called the droplet effect

Forms high nanostructure particles sheen of protective film for amazing paint finish

Protects from extreme UV damage

The microfiber towel has soft fibers that can clean any type of dirt and
Cleans without leaving scratches or damage the interior of your car
Softer and a better option than cotton rags
This amazing product comes with rain dance feature that makes waters slide off your car smoothly without any water marks! It's so easy to use-All you have to do is spray the formula on your car and spread it on the shaded area with a microfiber cloth and then buff it out. After buffing cure it and voila! AutozCare Ceramic Crystal Coating Wax. Gives your car a wet look finish giving your car a sleek look. It come in amazing smelling flavor like cherry. One thing everybody is addicted to is excellent smelling car care products!
Package Includes:
1 x AutozCare Ceramic Crystal Coating Wax (100ml)
1 x Drying Luxury Double Side Microfiber Towel
2-3 business delivery with 100% refund guaranteed.